Challonge Premier
Werbung auslenden + Unterstützen Sie uns
Welcome to the official Final Fantasy One Randomizer Spring Tournament!

>>>>> https://challonge.com/FFRspringbrackets <<<<<
TOURNEY WEBSITE!
https://sites.google.com/view/ffrspringtourney2018/overview
SCHEDULING: 


Schedule your match:
https://sites.google.com/view/ffrspringtourney2018/scheduling-racing

Master Schedule:
https://docs.google.com/spreadsheets/d/1n-FEUik3NmoiU3x8-JUEQa1ZjIw7gZqFdc8KpBnTU1Q/edit#gid=0

ENTRY PERIOD:
Entry period now CLOSED!
RESOURCES:
Final Fantasy Randomizer Tutorial (Thx TristalMTG!): https://youtu.be/PEjXU2TZ5b8
You can find the Final Fantasy Randomizer here, 2.3.1 is the working version for the Bracket Stage:
http://finalfantasyrandomizer.com/Home/Randomize
Whats New: http://finalfantasyrandomizer.com/Home/WhatsNew

Final Fantasy Info (Weapons, Spells, Armor, etc): http://guides.gamercorner.net/ff/
Final Fantasy Maps: http://mikesrpgcenter.com/ffantasy/index.html#maps
Final Fantasy Randomizer Readme: http://www.filehosting.org/file/details/683030/FFR.rtf
STRUCTURE:
There are two stages: Swiss rounds, leading into a Best-of-3 elimination bracket.
In the Swiss Stage, once per week, players will be paired with competitors of similar records in 1 vs. 1 race matchups.
There will be five Swiss rounds.
After all Swiss rounds are completed, 16 players will advance to the Bracket Stages. All undefeated players will be slotted into the Bracket Stage first, then 1-loss players, then 2-loss players, etc.

If there are more players of identical win/loss records than there are slots remaining in the Bracket Stage, those players will participate in a group "play-in" race, with top finishers in the race claiming the remaining slots in order of play-in race result, advancing to the Bracket Stage.
Bracket Stage players will complete a 1 vs. 1 Best-of-3 series each week to determine advancement, until a winner is decided. Brackets will all be Best-of-3.

FLAGS:

SWISS ROUNDS and TIEBREAK RACE: HACPHEBFYAAAHA!fHPoYIBAAA
ROUND OF 16: PACPHUBPYAAAHA!fPPoYIBAAA (significant changes from swiss)
ROUND OF 8: PACPHUBPYAAAHA!fPPoYICAAA (adds a second forced class)
ROUND OF 4: PACPHUBPYAAAHA!fPUoYICAAA (increases enemy stat range to 50-200%)
FINALS: PACPHcBPYAAAHA!fPUoYICAAA (adds Sky 4th floor teleporter shuffle)
BONUS RACE: tbd
OFFICIAL RULES:
Entrants must use an emulator or console NES and the Final Fantasy Randomizer to play on.
Savestates are not allowed nor is frame rate manipulation.
Hard and Soft Reset encounter manipulations (Tent/Cabin/House) are permitted.

Brackets are subject to change prior to official start of the bracket stage of the Tournament.
Races must be broadcast or recorded offline and submitted for review and verification.
The preferred method is to be featured in a live broadcast, offline recordings are a last resort option, in case you have dropped frames, audio or video issues while broadcasting live.
PRACTICE and HAVE FUN!!!


SCHEDULING RULES:
All entrants will report their scheduling to a designated tournament admin such as Czar, ichbinmiah, Kababesh, xIceblue or Edgeworth.
A period of 48 hours will be enforced for all entrants to schedule their respective match ups, within SIX days of the matchup annoucement.
Once scheduled, both entrants will race upon the scheduled date and time and complete their race.
If an entrant is unable to complete their scheduled race, they can reschedule within those SIX days. 
If an entrant is unable to complete their race within those SIX days,  they will be disqualified.
EXAMPLE: if a race between 2 entrants is announced on the 18th at midnight, they have until midnight on the 20th to schedule their race, and they have until the 24th at midnight to complete their race.


PRIZES: 
Prizes will be announced during the tournament!
Semi Finalist winners will each win 1000 bits or the equivalent of $10.00 USD.  Tournament winner prizes are pending!


POLLS:
The top 4 finalists of the tournament will run the forced party for the bonus stream, voted on by viewers!  Voting is now open:  https://www.strawpoll.me/15609710
Iguana vs Agama vs Sauria:
https://www.strawpoll.me/15609723
One Sword to Rule them all:
https://www.strawpoll.me/15712583

COMMUNITY:
 All races will be broadcast via Twitch, the FFR community, Randomania and SpeedGaming (Thanks Noraystra and Feasel!)


QUESTIONS AND COMMENTS:
Please direct any questions or comments regarding the rules, registration, scheduling and etc to a designated tournament admin such as Czardia, ichbinmiah, Edgeworth, Kababesh or xIceBlue via discord here: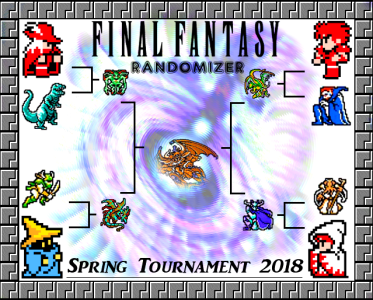 Vollständige Beschreibung anzeigen
Spiele sind offen für das Wahlverfahren!
---
Rang
Teilnehmer
Spiele G-V-U
(Gewonnen +1.0, Unentschieden +0.5)
Freilose
(+1.0)
Punkte

U

Buchholz

Pkt Diff

1
Saltyphry
5 - 0 - 0
0
5.0
0
9.0
-89220
2
Monoci85
5 - 0 - 0
0
5.0
0
9.0
-270912
3
Arsonhorse
4 - 1 - 0
0
4.0
0
9.0
-86067
4
Fuzzymage
4 - 1 - 0
0
4.0
0
9.0
-86117
5
Tristalmtg
4 - 1 - 0
0
4.0
0
9.0
-97345
6
splitpunched
4 - 1 - 0
0
4.0
0
8.0
-93443
7
Sforzand0
4 - 1 - 0
0
4.0
0
7.0
-165450
8
xIceblue
3 - 2 - 0
0
3.0
3
10.0
-125
9
ichbinmiah
3 - 2 - 0
0
3.0
2
10.0
155530
10
Demerine
3 - 2 - 0
0
3.0
1
9.0
87543
11
Willcleosis
3 - 2 - 0
0
3.0
1
9.0
3250
12
brott
3 - 2 - 0
0
3.0
1
9.0
-87248
13
sylverfyre
3 - 2 - 0
0
3.0
1
9.0
-161163
14
LordFizzlebeef
3 - 2 - 0
0
3.0
1
8.0
4026
15
Highspirits
3 - 2 - 0
0
3.0
1
8.0
-1187
16
Edgeworth (Edgeworth_)
3 - 2 - 0
0
3.0
1
8.0
-5305
17
edgefigaro
3 - 2 - 0
0
3.0
0
8.0
-678
18
jkoper
3 - 2 - 0
0
3.0
0
8.0
-72166
19
Falconic
3 - 2 - 0
0
3.0
0
7.0
-84343
20
Bismark189
3 - 2 - 0
0
3.0
0
7.0
-170001
21
Thilotilo
3 - 2 - 0
0
3.0
0
7.0
-246056
22
thehangrycanuck
3 - 2 - 0
0
3.0
0
6.0
10597
23
Dem0nfr0g1983
2 - 3 - 0
0
2.0
2
8.0
2325
24
AliGerBrap
2 - 3 - 0
0
2.0
2
6.0
-84934
25
Tyerenex
2 - 3 - 0
0
2.0
1
9.0
84734
26
Drumboardist
2 - 3 - 0
0
2.0
1
9.0
-159491
27
Czardia
2 - 3 - 0
0
2.0
1
8.0
-1246
28
_PapaFoiz_
2 - 3 - 0
0
2.0
1
8.0
-2621
29
DD_Gamingz
2 - 3 - 0
0
2.0
1
8.0
-67216
30
quicklit
2 - 3 - 0
0
2.0
1
8.0
-72623
31
Blackknight39
2 - 3 - 0
0
2.0
1
7.0
171914
32
SolarysDrix
2 - 3 - 0
0
2.0
1
7.0
-92700
33
Rumblefish82
2 - 3 - 0
0
2.0
0
7.0
-55372
34
GreenCleric
2 - 3 - 0
0
2.0
0
7.0
-69620
35
len_the_cat
2 - 3 - 0
0
2.0
0
5.0
153496
36
Zarby89
1 - 4 - 0
0
1.0
1
8.0
174923
37
TheJokerMB
1 - 3 - 0
0
1.0
1
6.0
159771
38
shyleasia
1 - 4 - 0
0
1.0
1
6.0
85758
39
LordoftheSynth
1 - 4 - 0
0
1.0
1
5.0
249653
40
Mageius
1 - 4 - 0
0
1.0
0
6.0
246915
41
Miaut
1 - 3 - 0
0
1.0
0
4.0
86354
42
rainbowpoogle
1 - 4 - 0
0
1.0
0
3.0
306979
43
iamtheschwarz
0 - 5 - 0
0
0.0
0
6.0
94601
44
onefineday
4 - 1 - 0
0
4.0
2
11.0
-84588
45
TrintonGL
0 - 3 - 0
2
2.0
0
2.0
241314
46
BrilliantAndInsane
0 - 3 - 0
2
2.0
0
2.0
87554